The Institute for a Disaster Resilient Texas was formally established on May 14, 2020 by the Texas A&M University System Board of Regents following the passage of House Bill 2345 by the 86th Texas Legislature in 2019. Located at the Texas A&M University Galveston campus, the Institute's mission is to facilitate the integration of analytical tools and state-level decisions related to disaster resiliency.  Through collaborative efforts, the Institute aims to deliver critical research on disaster risk reduction, support state agencies with data analytics and decision-making tools, and generate evidence-based solutions that help Texas communities become more resilient over the long term.
"By working with Texas A&M University System partners, other institutions of higher education, public agencies, and other entities, the Institute will become a leader in developing analytical tools that support more disaster-resilient communities."
Texas Disaster Information System
The cornerstone project for the Institute is the Texas Disaster Information System (TDIS). This project is currently in the planning phase, but will be an interactive, analytical, and visual web-based spatial data system designed to support more resilient decision making at the state level.
Using 311-Call Data to Measure Flood Risk and Impacts: the case of Harris County TX during Hurricane Harvey
The impacts of flooding in the United States (U.S.) are becoming more ubiquitous, costly, and widespread.
Uncertainty in Flood Mitigation Practices: Assessing the Economic Benefits of Property Acquisition and Elevation in Flood-Prone Communities
Prepared For: Sustainability
Adopting effective flood mitigation practices for repetitive flood events in the United States continues to play a prominent role in preventing future damage and fostering resilience to residential flooding.
Quantification of continuous flood hazard using random forest classification and flood insurance claims at large spatial scales: a pilot study in southeast Texas
Prepared For: Natural Hazards and Earth System Sciences
Pre-disaster planning and mitigation necessitate detailed spatial information about flood hazards and their associated risks.
Evaluation of flood risk reduction strategies through combinations of interventions
Prepared For: Journal of Flood Risk Management
Large, complex coastal regions often require a combination of interventions to lower the risk of flooding to an acceptable level.
IDRT's Dr. Sam Brody and TACC's Dr. Suzanne Pierce are featured in TEXASCALE's article, "DASHBOARDS FOR DISASTERS; Establishing a roadmap to make Texas safer, more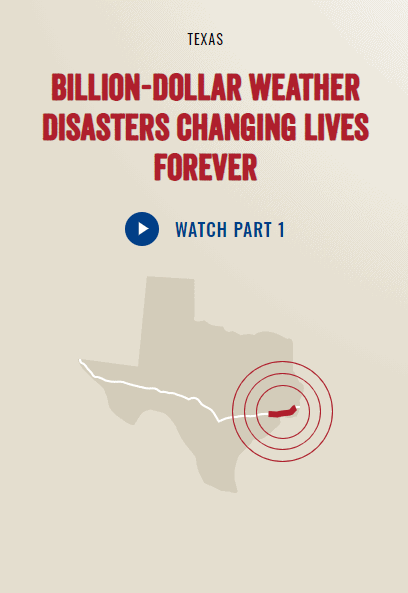 The Weather Channel developed a series of videos on coastal disasters along the Interstate 10 highway. IDRT's Director, Sam Brody, is featured at the 5:15
In a story written by Katie Watkins at Houston Public Media, IDRT Director, Sam Brody, is quoted about the causes of increased flood damage in