Hazard analytics is the Institute's foundational platform wherein data is converted to knowledge and knowledge to action through scientific inquiry.
Community Engaged, Fast Impact Estimation of Extreme Weather using Big Social and Climate Data
Texas One Gulf Center of Excellence, TCEQ
With climate change, more extreme weather is anticipated to occur in Texas, driving disaster risk to its economy, society, and built environments. In response, there is a recognized need for more accurate and timely estimates of the impacts of hypothetical and actual disasters on local communities. Widely adopted social platforms (e.g., Twitter) may help meet this need by providing the type of broadly distributed, near real-time data source required to create a more unified, inclusive, and accessible disaster impact estimation platform.
 
To realize this potential, we are developing a prototype Disaster Impact Estimation Prediction (DIEP) system that uses machine learning methods to develop actionable insights for disaster mitigation from social-media data. Results of the DIEP are expected to inform and improve decision making for mitigating risk from the targeted disaster impacts, including by quickly pinpointing hotspots for disaster response, recovery, and mitigation. User centered design of an online GUI for estimation, visualization, and communication will ensure the DIEP is responsive to the data needs and quality and privacy concerns identified by project partners.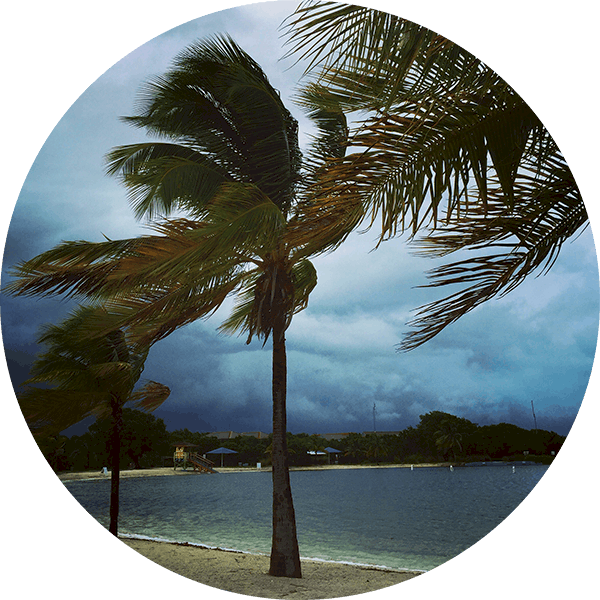 Probabilistic Debris Modeling in Coastal Storm Events
Natural disasters, like hurricanes, tropical storms, and flood events, can generate a massive amount of debris, posing significant challenges to coastal communities. Financial and logistical burdens related to debris removal account for nearly a third of reimbursed recovery costs, and threats to public safety range from impaired emergency response to health hazards. Addressing the issues posed by disaster debris requires accurate models to estimate debris presence and quantities after, and preferably prior to a storm, both of which are currently deficient. Knowledge is limited regarding the drivers of debris with existing predictive models yielding large errors that undermine their use for planning or response, particularly for multi-hazard storm events. Moreover, coastal landscapes are constantly changing, and temporal and spatial development patterns shift the siting and quantities of prospective debris. This project addresses the need for integrative models to understand the complex coupling between human-built-natural systems that affect debris generation in storm events and the cascading impacts on coastal communities. While a subset of cascading consequences are explored here, including new knowledge of social inequalities of debris distribution or infrastructure impacts, this project paves a path to future coupling with models of human health and hazardous waste impacts, among others. Resulting insights can inform policy decisions, coastal planning and risk mitigation, and debris management.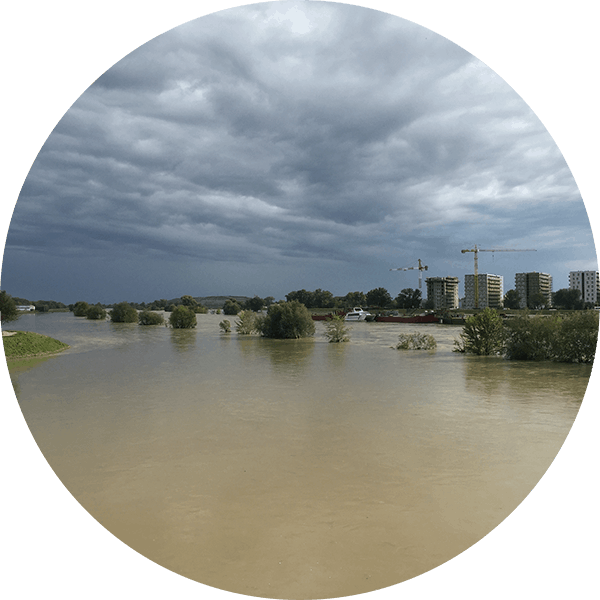 Urban Flooding Artificial Intelligence X-Grant
The Urban Flooding AI X-Grant will advance data science and artificial intelligence (AI) for modeling, analyzing, and predicting community resilience during urban flooding. Incorporating various modes of data and technologies (e.g., earth observation, satellite remote sensing, digital tracing, drones, crowdsourcing, social media) to inform various aspects of resilience to urban flooding. The IDRT institute will collaborate with other recipients of the award to integrate flood indicator datasets and models to provide near-real time predictions of flood hazard and risk in the Houston Region.
In addition, IDRT will use resources from parallel research awards to plan, develop, and implement a data pipeline to feed the TDIS, Buyers-Be-where, and other web-based products, and will further refine visualization products to communicate flood hazard, risk, and impacts.
Measuring, Mapping, and Managing Flood Risk
FEMA & The Texas General Land Office
When Hurricane Harvey struck the Texas coast in 2017 as one of the most damaging storms in U.S. history, it put an exclamation point on a long-term trend of increasing flood loss across Southeast Texas. Research indicates flood damages are getting worse and that these impacts are occurring increasingly outside of traditional FEMA 100-year floodplain boundaries. Of the approximately 150,000 homes flooded in Harris County (Houston), Texas alone, almost 70 percent were outside of the 100-year floodplain, the primary marker of flood risk and impact, and the basis for regulatory requirements in the U.S.
This problem is not limited to the effects of Hurricane Harvey or the Houston area. All over the country, flood losses are occurring in areas far from rivers, streams, and channels and in other locations traditionally considered safe. Changing rainfall patterns combined with expansion of impervious surfaces, aging infrastructure, and the unintended consequences of the built environment are exacerbating this problem over time.
In response, researchers at Texas A&M University (TAMU) with support from FEMA, the National Academies of Sciences, Engineering, and Medicine (NASEM), and the Texas General Land Office have launched a new study to measure, map, and articulate flood risk in communities seeking to better prepare for and reduce the adverse impacts of future storm events. This two-year project will develop novel ways to identify and communicate flood risk and impact in multiple local communities across Texas. Specifically, we will produce maps and other visuals that paint a more complete picture of flood risk by integrating multiple data sources and models. These data include advanced hydraulic models, insurance- and aid-based flood payouts, crowd sourced data, socioeconomic characteristics, and survey responses. Maps will be shared with local stakeholders to obtain feedback on how to refine our products and make them most effective in helping localities prepare, mitigate, and recover from flood events.
This study on how to best integrate and visualize data to effectively communicate the adverse impacts of future flooding will serve as a model for other states around the nation.
Deriving Residential First Floor Elevations in Galveston using UAS-Based Data
Texas Comprehensive Research Funds
Accurate first-floor elevations (FFEs) are the key missing variable in the field of flood risk planning and management. In landscapes where inches matter, the inability to precisely measure and map first floor elevations for a large number of structures has confounded practitioners and researchers alike. The result of this lack of data make it difficult to accurately quantify the degree and location of impacts during flood events, and evaluate and implement policies that will reduce risk over the long term. To date, decision makers and hazards scholars have relied on inaccurate elevation assumptions and "ballpark" estimates.
Our TCRF-funded efforts were used to develop a rapid, accurate, and scalable methodology for capturing first-floor building elevations. An RTK-enabled UAS was used to obtain georeferenced aerial imagery, which was further developed to create detailed 3D models that were accurate within +/- 2 cm. From these models, ground and FFE measurements were obtained to better assess the risk and potential flood damage. Three residential communities within Galveston Island were chosen based on location, elevation differences, and structure types. Results have thus far indicated that our approach is feasible and accurate.

The Growing Threat of Urban Flooding
Over the past decade, major hurricanes and extreme storm events have wreaked havoc on many urban areas throughout the United States. While the major storms will be remembered as hurricanes, in many cases it was the intense rainfall that brought urban areas to a standstill, overwhelming homes and transportation arteries with flood water. Aging and inadequate infrastructure, coupled with rapid land development is increasing the amount of storm runoff to already stressed drainage systems, creating pockets of flooding in ill-equipped and vulnerable neighborhoods. In many communities, a lack of resources, a division of responsibilities among various departments, and a reluctance to deal with the impacts of increasingly intense precipitation and climate change has slowed progress in meeting the challenges of urban flooding.
In response to this issue, the Center for Texas Beaches and Shores at Texas A&M University, Galveston Campus and the Center for Disaster Resilience at the University of Maryland initiated a joint multi-year study to determine the extent and consequences of urban flooding in the United States, and explore what actions might be taken to mitigate this flooding in the future. Center researchers analyzed available data concerning urban flooding, surveyed municipal flood and stormwater managers, and met with professionals whose disciplines intersect with urban flooding at the local, state, and national level. A copy of the initial report can be viewed HERE.